Diving Vacations in Cuba
Scuba in Cuba
Our Group Vacation Packages to Cuba Just Got Even Better!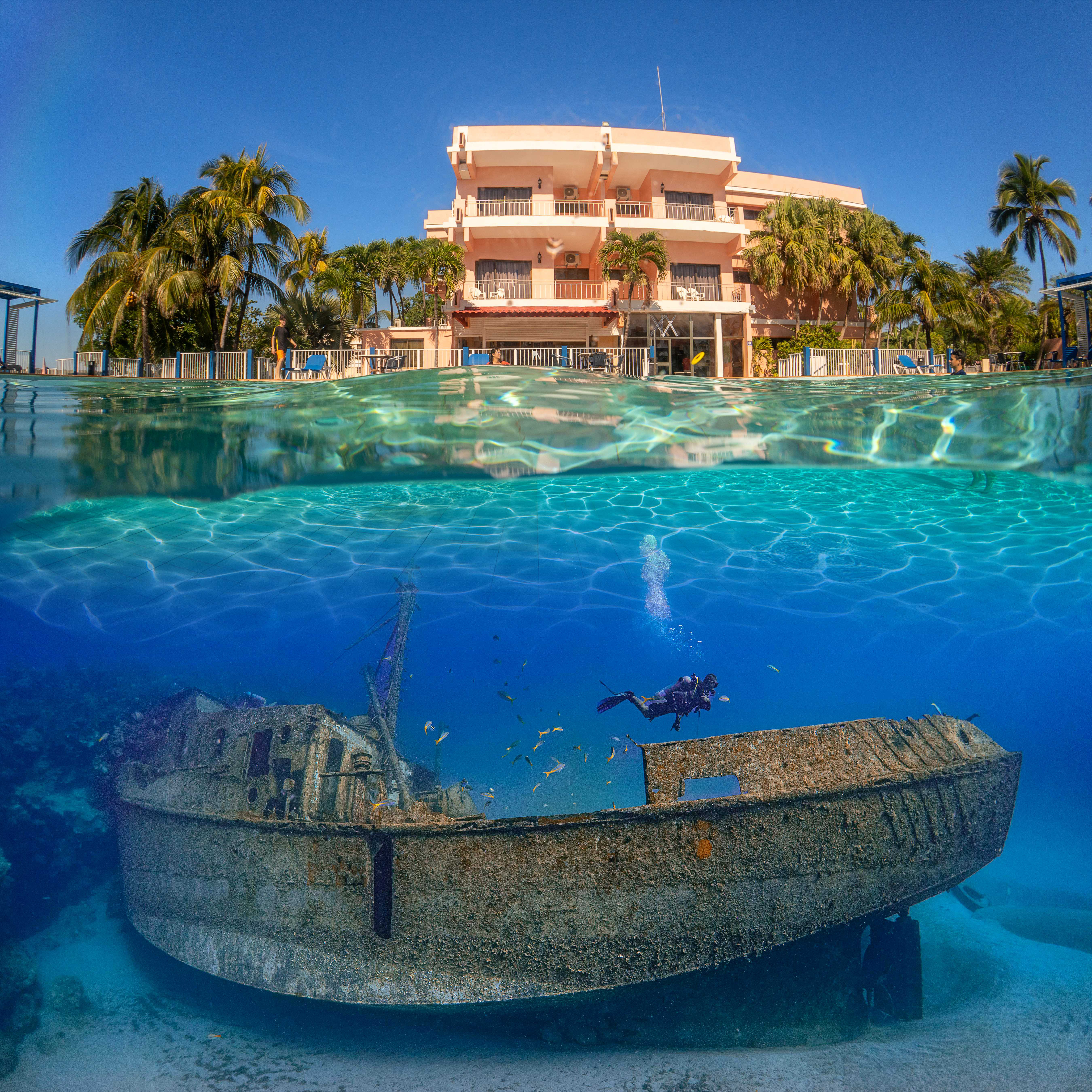 We have just secured some premium upgrades and they are exclusively for our guests!
Our all inclusive Cuban vacation packages EXCLUSIVELY feature:
FREE Upgrade from Rancho Luna Hotel to the Faro Luna Resort
FREE Upgrade to Ocean Front, terraced rooms, steps from the dive centre
FREE Upgrade to the full, a la carte Meal Plan
FREE Bottled water delivered to your room daily
INCLUDED ONSITE Watersports activities like paddleboards and sea kayaks
Complimentary access to the nightly shows at Rancho Luna with free alcoholic drinks at the show
SPECTACULAR Snorkelling - steps from your room
All of these upgrades are included with our standard vacation package of:
7 nights accommodation
Airfare and airport transfers (land and sea) to the island
5 days of diving (2 boat dives per day)
Can't get away for 7 nights? We can tailor 3, 4 and 5 night stays just for you.
Want more than 7 nights, we can do that too. 10 nights, two weeks, how about a month?
Give us a call and we will build your ideal vacation package.
Cienfugos, Cuba

Cienfuegos, located on the south coast of Cuba facing the Caribbean Sea is a friendly and unique destination that has become popular among Canadians. Inviting lovers of history, architecture, and nature, surrounded by sugar cane, tobacco fields and botanical gardens, the "Pearl of the South" region caters to different types of interest. Divers and snorkellers will be amazed by the underwater sea life, as the water temperatures are ideal throughout the year. The most colonial city in the area is Trinidad with its architecture and cobblestone streets. The warmth of its people, its history and culture, and not to mention, the best beaches of the southern coast of Cuba, intrigues visitors year after year. Travelling with Aquasub, when weather and time permits you can expect the chance to visit the El Nicho Waterfalls - considered by many to be the #1 land excursion in the region - it features picturesque views and a chance to take a swim in a jungle paradise.
Your Package Does Not Include:
Travel insurance – highly recommended – we can provide you with quote
Scuba equipment* other than tanks and weights
*Rental equipment packages are available for $150 per week from Aquasub!
At Aquasub, our Cuba trips are IDEAL for diver training! This patch of paradise is the perfect place to complete your Open Water Diver course while soaking up the sun and fun. It is also a great spot to take your Advanced Open Water or any of a number of specialty diver courses!
To begin the booking process,

click here to complete the Aquasub Trip Application Form

. We will contact you with up to the minute pricing and confirm with you before your trip is finalized.
All travel booked through AquaSub Travel TICO # 50018183
TRIP PRICING fluctuates and is current as of July 25th 2023.
While we do our best to keep our trip prices current, due to fluctuations in demand and availablility, prices can vary. Call us anytime to confirm price and availability on any of our trips!
Destination
Start Date
End Date
Price
Cienfuegos - Cuba
Wednesday 25 Oct 2023
Sunday 05 Nov 2023

CA$ 1266.00

Cienfuegos - Cuba -(FotoSub - Oct 25th - 10 Days)


Cienfuegos - Cuba
Wednesday 25 Oct 2023
Wednesday 01 Nov 2023

CA$ 1266.00

Cienfuegos - Cuba -(Cienfuegos 2023-10-25)


Cienfuegos - Cuba
Wednesday 01 Nov 2023
Wednesday 08 Nov 2023

CA$ 1386.00

Cienfuegos - Cuba -(Cienfuegos 2023-11-01)


Cienfuegos - Cuba
Sunday 19 Nov 2023
Sunday 26 Nov 2023

CA$ 1426.00

Cienfuegos - Cuba -(Cienfuegos 2023-11-19)


Cienfuegos - Cuba
Sunday 26 Nov 2023
Sunday 03 Dec 2023

CA$ 1426.00

Cienfuegos - Cuba -(Cienfuegos 2023-11-26)


Cienfuegos - Cuba
Sunday 03 Dec 2023
Sunday 10 Dec 2023

CA$ 1426.00

Cienfuegos - Cuba -(Cienfuegos 2023-12-03)


Cienfuegos - Cuba
Sunday 10 Dec 2023
Sunday 17 Dec 2023

CA$ 1426.00

Cienfuegos - Cuba -(Cienfuegos 2023-12-10)


Cienfuegos - Cuba
Wednesday 27 Dec 2023
Wednesday 03 Jan 2024

CA$ 1856.00

Cienfuegos - Cuba -(Cienfuegos 2023-12-27)


Cienfuegos - Cuba
Sunday 31 Dec 2023
Sunday 07 Jan 2024

CA$ 1846.00

Cienfuegos - Cuba -(Cienfuegos 2023-12-31)


Cienfuegos - Cuba
Wednesday 03 Jan 2024
Wednesday 10 Jan 2024

CA$ 1596.00

Cienfuegos - Cuba -(Cienfuegos 2024-01-03)