In-House Equipment Service
Regulator, Dive Computer, BCD. Cylinder and Dry Suit Service and Repairs
AquaSub Scuba has manufacturer certified service technicians to ensure your gear is in top shape before your next dive. Bring in your gear early to ensure you are ready to dive before your next big adventure!
Regulator Service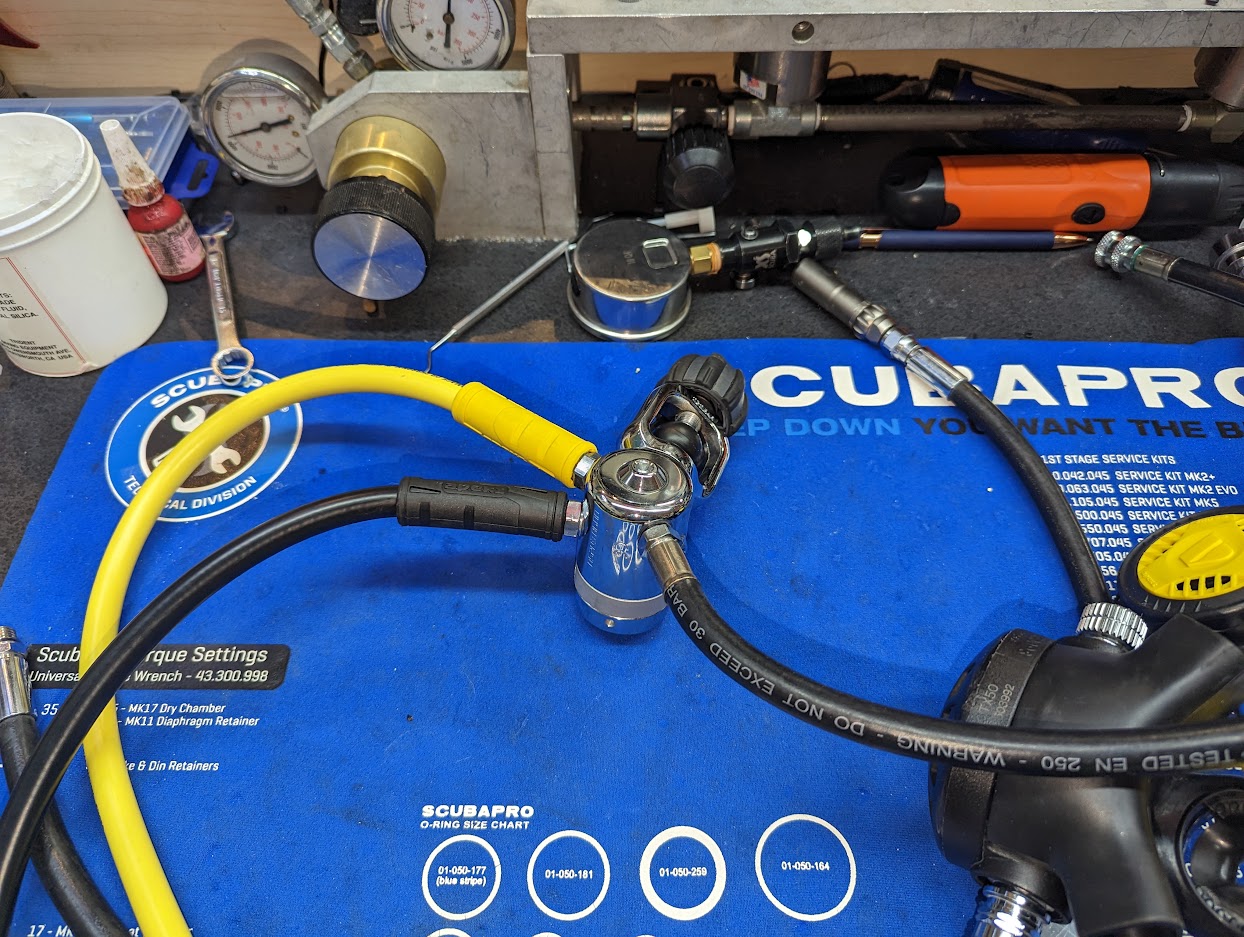 A typical regulator set has 3 stages, and each requires periodic service based on the manufacturer's individual recommendations. Most manufacturers suggest annual service.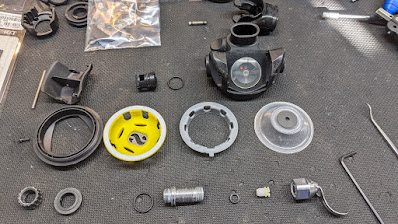 Typical annual service includes a full overhaul of each stage of the regulator and includes chemical ultrasonic cleaning. Once fully disassemble, all consumable parts must be changed. Parts are extra unless covered under manufacturer warranty. Parts kit prices vary by manufacturer, but average $30 per stage.
Not sure if your regulator is behaving correctly? We can do a performance test on the cracking pressures of your second stages and intermediate pressure of your first stage to ensure accurate performance.
Annual service: $40 per stage
Oxygen cleaning: +$10 per stage (O2 safe parts kits may be more expensive)
Regulator Performance Test: $15 per stage
HP Spool overhaul: $15
RUSH Surcharges:
Customers needing rush service on regulators can pay a surcharge to ensure either:
24 hour service: $100
48 hour service: $60
Rush service is dependant on parts availability. We stock most parts for all the regulators we service and can confirm availability ahead of time.
---
Dry Suit Repairs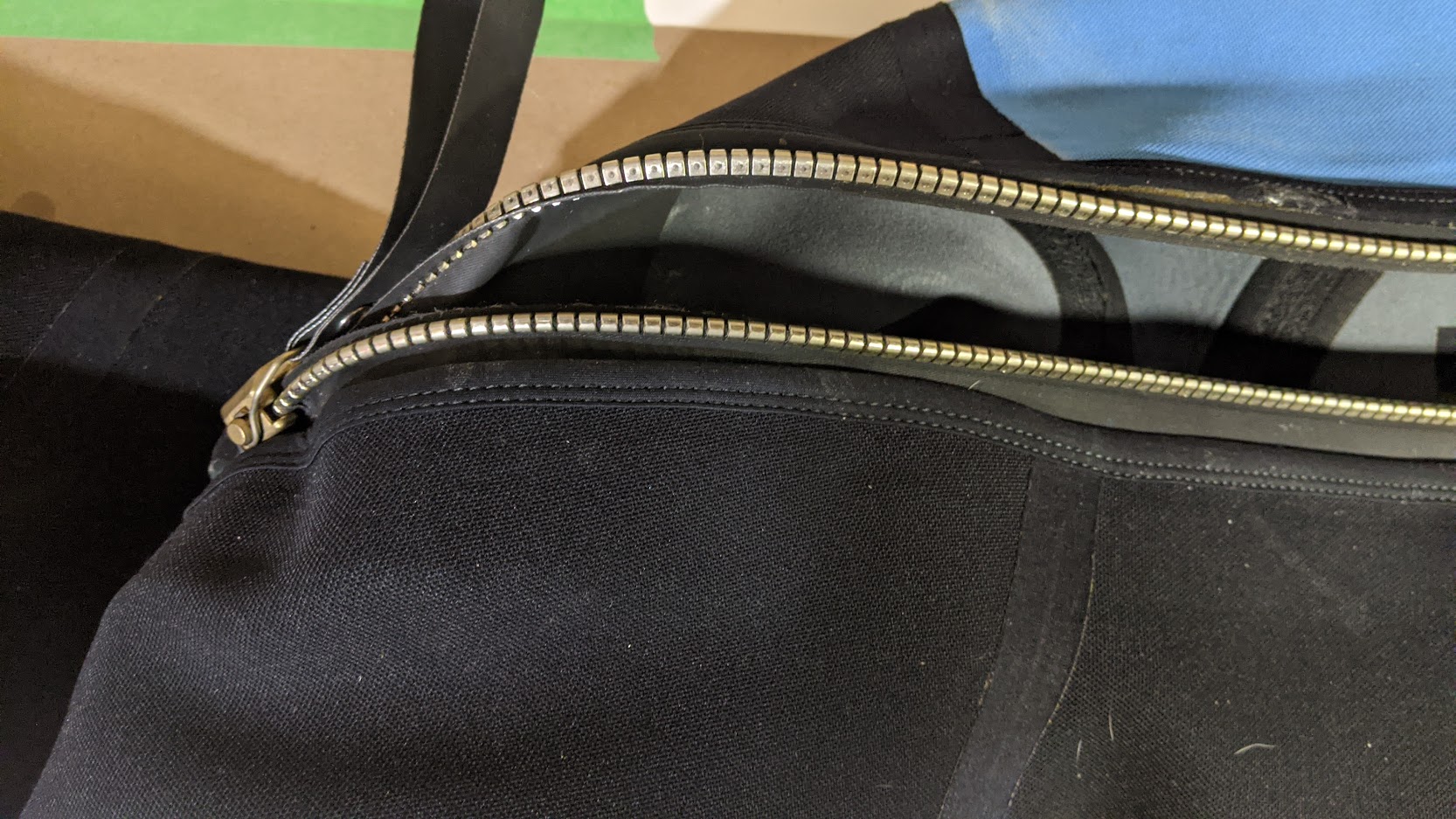 At AquaSub, we repair all types of dry suits. Whether you have a hole that needs patching, new seals or zipper and boot jobs. All repairs are done in house and are warrantied. Dry Suit repairs are done, first come first serve. Estimated times can be provided at check-in. Dry suits should be thoroughly dried inside and outside before bringing them in for service. All Dry Suit Repair workmanship is warrantied for one year against leaks and defects. We do not warranty any issues due to use or abuse. (torn seals, use in hazardous environments, exposure to chemicals, zipper abuse, etc)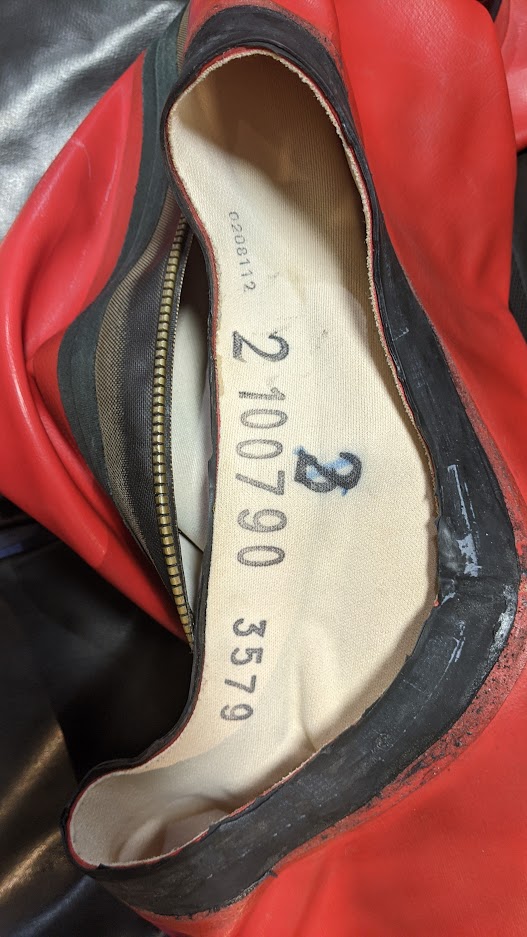 Pricing shown are labour only unless specifically stated, all parts are billed separately.
Wrist Seals: $90 Single / $165 Both
Neck Seals: $145
Boot Change: $200 Pair
Zippers: $285 Back Zip / $335 Front Zip
Patches <2": $50 for the first patch, $25 each addtional patch during the same job
SiTech Trigon Relief (Pee) Valve: $265 (INSTALLED)
QCS Glove Ring System From SiTech (fits Ultima, Antares and more): $349 (INSTALLED)
Fusion Surcharge: $50 (due to the more difficult nature and additional materials required for Fusion dry suits, a surcharge may apply to seal replacements)
Clean Up Surcharge: $50 (if we have to clean up a previous, improperly completed or messy repair a surcharge may apply) DIY seam repairs using Aquaseal! Don't do it.
Replacement Silicone Seals:
Siflex Wrist Seals: $29 each
Siflex Neck Seals: $64 each
Dive Computers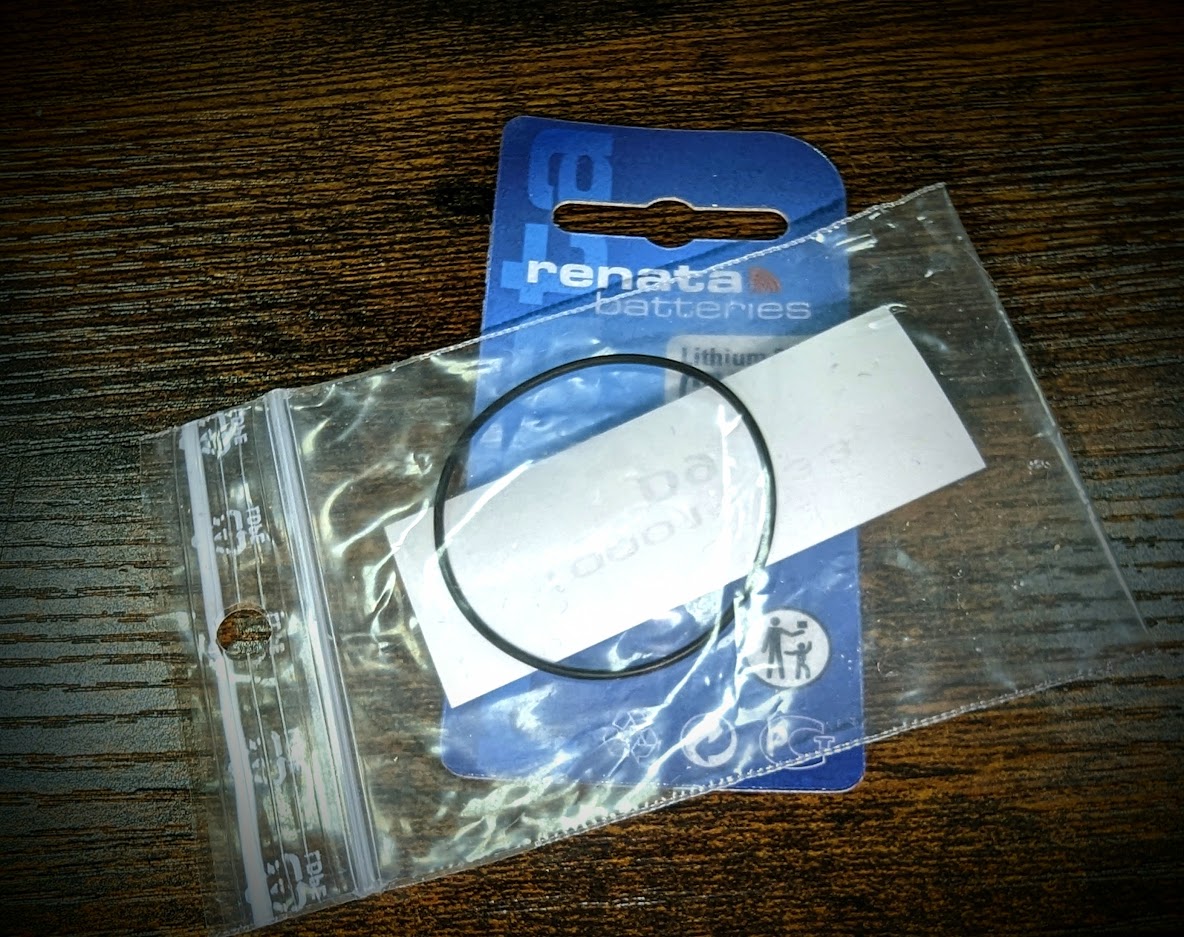 We sell a wide variety of stand-alone battery kits for computers by Mares, Suunto, Oceanic, Shearwater, Cressi and more. Battery kits are useful spare parts, and many batteries are user changeable. Care must be taken when changing your own batteries as you risk flooding and permanently destroying your computer. In some cases, changing your own battery may void the manufacturer warranty. AquaSub accepts no liability for computers that flood when a user has changed their own battery.
We also offer battery change & pressure test for leaks and sensor accuracy in our pressure tank. We test in fresh water and should a computer flood, in most cases it can be dried out and repaired however because we cannot be certain of a computers status before it enters the shop, we will so not accept liability for damages that cannot be repaired in-house or under warranty.
Standard Computers: $44 (plus battery kit)
Watch style: $95 (plus battery kit)
---
Cylinder Service
Hydrostatic testing: $52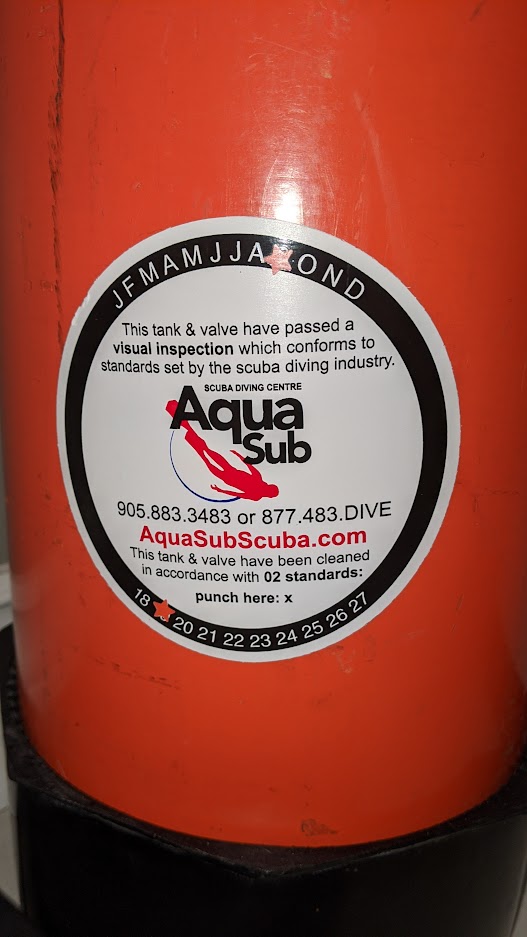 All cylinders required hydrostatic testing to be done every 5 years. It is the same price regardless of size and takes 3-4 weeks to be completed. Includes Visual Inspection and air fill. Cylinders must be approved Transport Canada pressure vessels and be within the 5 year test date to be filled.
Visual inspection: $20
All cylinders that are used for scuba are required to have a visual inspection completed every year.
Tank tumbling: - Aluminium $40 - Steel $50
Tank tumbling will remove large deposits of oxidization or rust from inside your tank.
Oxygen cleaning: - Aluminium $60 - Steel $65
All tanks that will be filled with enriched air nitrox using a partial pressure blending method or that will be filled with anything over 40% O2 must be oxygen cleaned annually. Cylinders being filled with continuous blending DO NOT need to be O2 clean.
Tank valve overhaul: $30
Includes parts. Valves have a lot of moving parts and o rings and should be overhauled at minimum every 5 years. Include and overhaul with every hydro test to keep leaks from occurring and to keep your valves turning loosely!
Tank valve overhaul & oxygen cleaning: $40
Double tanks disassembly and assembly: $50
Added on to any of the above services if disassembly and assembly of doubles is required.
---
BCD's
Performance test: $25
We will do a leak check and ensure that the inflator and deflator valves are in working order.
Inflator valve overhaul: $30